Only few weeks ago I had no plan to attend Britmums live 2016. I did attend for the last 3 years but knowing that this time it would have been a one day only conference, I thought it was not worth it travelling all the way from Edinburgh to London. But then, I was approached by the lovely folks from Johnson's and Johnson's and I was asked to be their ambassador during the conference, I was THRILLED! And of course I accepted!
I've always been a huge supporter of their products and the smell of their shampoo still reminds me of the time when I was little and my mum used to wash my hair and for fun she used to make wet shampooed horns, awww the laughs! And yeah its was looong time ago..
Anyway!
Like I feared, the journey down to London was endless. The flight was massively delayed and my hopes to have some time by myself  the night before the conference quickly disappeared. I arrived at the gorgeous hotel – that Johnson's kindly booked for me – very late at night. I was shattered but pleased to be welcomed by a beautiful, quirky interiors  (and I obviously took pictures to show my interior designer husband).
I wish I could have spent the whole day there just relaxing but I had a mission for the next day so I went for a quick meal at Wagamama ( I adooore Wagamama) and then back to the hotel room for a loong warm shower and my beauty sleep.
The next morning early and bright I met up at the hotel reception with other lovely bloggers and all together we headed to the conference where the Johnson's experts were waiting to brief us about their new products, show us around the stand and answer any questions we might have.
After registration time I went inside the room where all the sponsors had their stands. I was quickly approached by the "Play tennis for free" team and asked to play some tennis. Not too bad as a start of the day, at least I can say I did my morning exercise ( it was probably 5 minutes no more, I could have not cope doing it for longer so early and without any breakfast!!)
Throughout the day I had the opportunity to meet new bloggers, attend the various sessions organised by Jen and Susanna and I had the pleasure to taste the most amazing food and that's something I look forward every year.
The food at Britmums live is spectacular, I love the way they present it, the taste, the packaging.  Everything about it is fab.
This was the Costa Brava stand. YUM!
Plenty of fresh food, healthy ingredients full of flavour!
The Gazpacho was to die for, refreshing and tasty!
The sessions were interesting, the best one for me was listening to Vicky from Honest mum. She's so funny and every time we meet we have a laugh together. I love the fact that she's passionate about what she does and she definitely shows it! ( I mean look at her hands moving, she MUST have some Italian ancestors, lol)
These lights definitely didn't give any justice to our pretty faces 🙂
Throughout the conference I met many new friends. Some were big and cuddly..
Others were, well very fit and handsome 😉
I had the pleasure to talk quite a bit to the Johnson's experts who were happy to tell us about the launch of their new products which included the Top to Toe baby washcloths. These wipes are double the size of a normal wipe so that can be used to clean bigger areas or multiples part of the body. Perfect especially when you are on the go and cannot really access any water to clean your baby.
What I was interested to hear as well was that their normal size wipe packet now comes with a new dispensing system which ensures you to pick one wipe and one wipe only (I always make a mess with other wipes brand as I go with the intent of pulling only one and I get at least 5 all stuck together argh!). Plus the package features a rigid lid which allows easy opening, making it easier for those on-the-go moments when your hands are full and all you need is one wipe. Simple but genius!
The other products of the range featured at the stand included the Johnson's baby bath, the very famous no more tears Johnson's shampoo ( I use it on my hair too!- love the smell!), their so popular Johnson's baby oil, the baby powder and the baby lotion.
I can honestly say that you could find most of these product in my bathroom as these are the ones I've used for both Beatrice and Leo since their early stages. These products are like a tradition in our family which has been passed on from generation to generation. Their indisputable gorgeous smell reminds me of my childhood and I feel that if my mom who was very picky choosing products to use on her children, used this brand then I know I can still trust this company (thank you mamma!)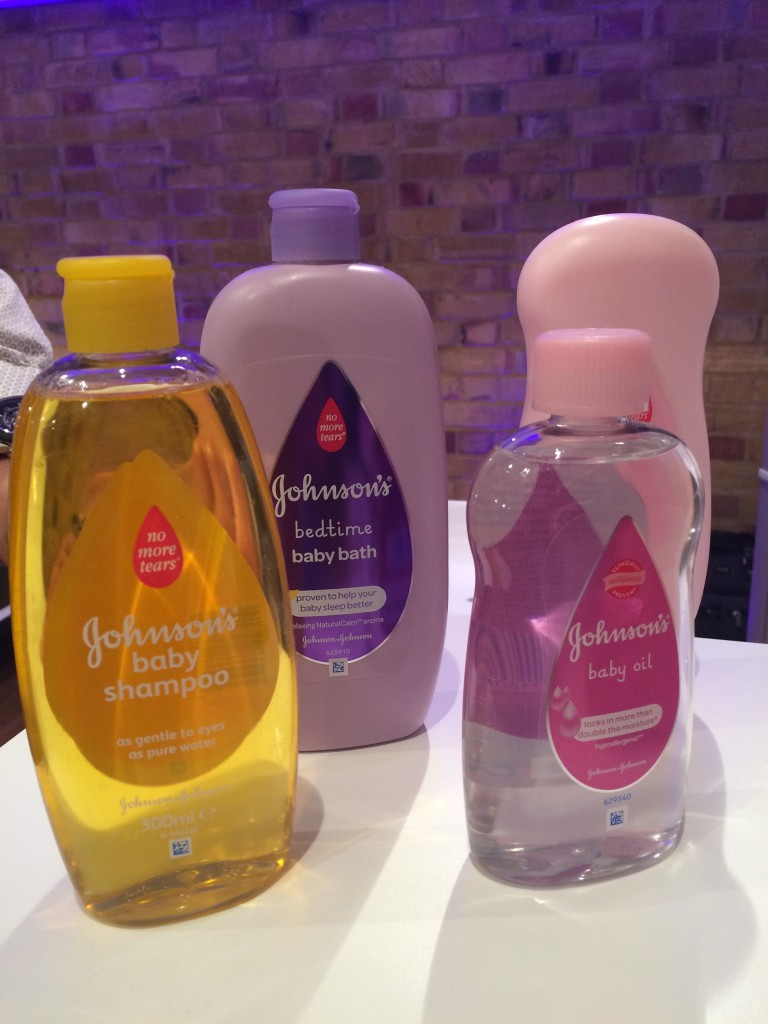 It was good to chat with the Johnson's expert and to know that they work along with dermatologists, ophthalmologists, pediatricians and midwives to ensure that their products are safe, mild and gentle on the delicate baby skin. That makes total sense to me!
Over all the conference was a good experience although I felt I was a bit rushed throughout the day by the tight schedule of the sessions.
 This year, for the first time, I was able to attend the keynotes at the end of the conference (my flight was late in the evening) and I have to say that was the highlight of the conference: real people sharing their real, touching, funny stories about their life as parents. And this is exactly the reason why I might go back next year, again…(and hopefully I'll get to spend more time in another gorgeous hotel room by-my-self! :)).
* Blog post sponsored by the JOHNSON'S® brand. The JOHNSON'S® brand kindly paid for me to be able to attend Britmums and also provided samples but all opinions are my own.